Test Date: 31 March 2010
Tested materials: San Jorge FF604, San Jorge Crystal®, Sunvac®, Xtend®, PrimePro® modified
atmosphere bags
Tested produce: Sweetheart cherries
Company: Rio Blanco
Testing Method:
Fruit was packed in cartons lined with 5 different types of modified atmosphere films
and sealed with heat (or tied in the case of Xtend® and folded closed in the case of PrimePro®). All fruit
was sent to the cooler for subsequent refrigerated storage at a temperature of 0° C, with 90% RH. Gas
levels were measured after pre-cooling was ended. The samples were assessed at 20, 24, 40 and 44
days of storage.
Results: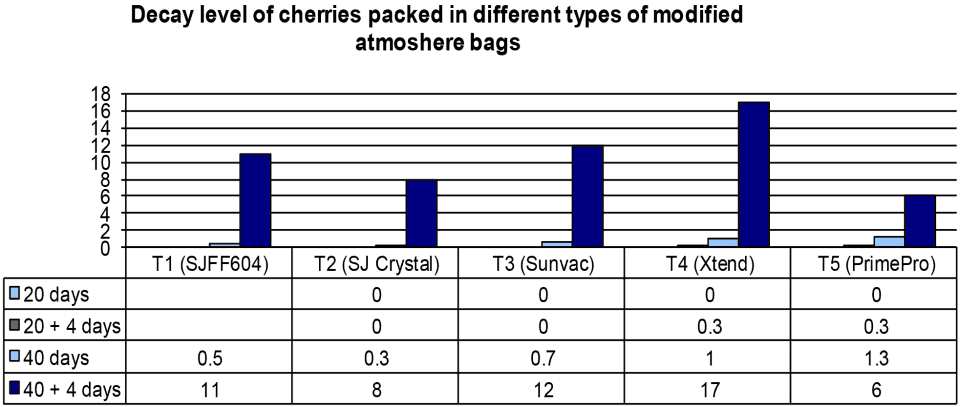 The decay levels in the assessments of 20 and 20 +4 days were generally low. In assessing the 40 days
period initially low levels followed, only the results of treatments T4 (Xtend) and T5 (PrimePro®) were
slightly higher with 1.0 and 1.3% respectively. Rot levels increased significantly by leaving the fruits at
room temperature for 4 days after 40 days of refrigerated storage. Treatments T4 (Xtend), T3 (Sunvac)
and T1 (SJ FF604) showed the highest levels of rot at 17.0, 12.0 and 11.0% respectively. The other
treatments showed levels below 8.0%.
After 40 days in cold storage the fruit was evaluated again. The highest severe pitting levels were
found on fruit packed in SJCrystal (6%), SJFF604 (5%), and Sunvac (3%). Both PrimePro® and Xtend had
rates below 2%.
After evaluation on the 40th day, the highest levels were in bags T2 (SJCrystal), T1 (SJFF604) and T3
(Sunvac) with 6.0, 5.0 and 3.0% of severe pitting respectively. T5 treatment (PrimePro®) and T4 (Xtend)
had rates below 2%. A similar pattern ensued after leaving the samples at room temperature for 4
days.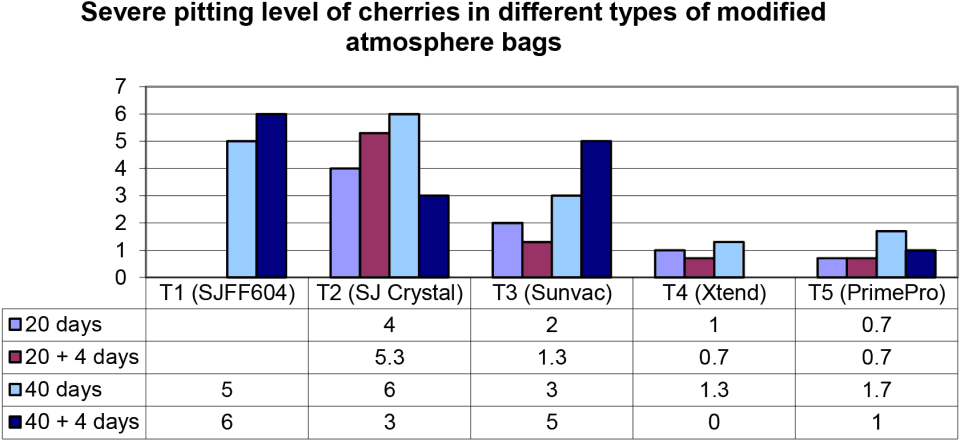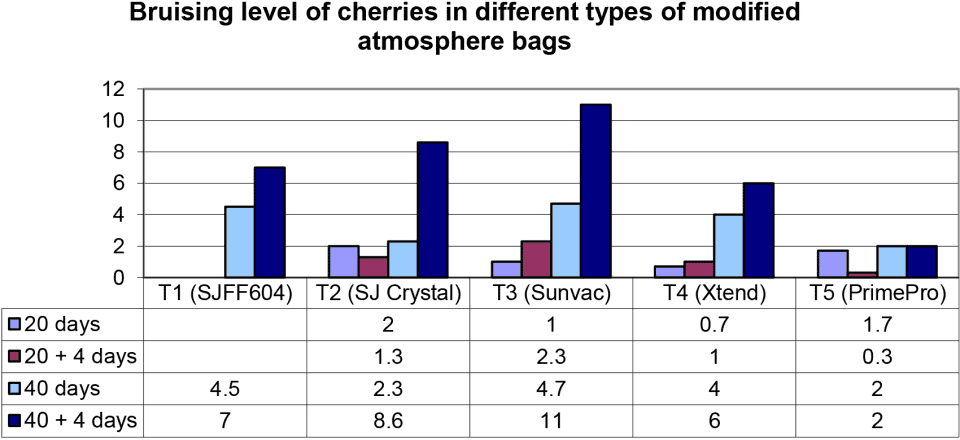 Considering levels of bruising, severe pitting and decay PrimePro® film ranked number one and left
behind SJ FF604, SJ Crystal®, Sunvac®, and Xtend® films.