N.C. growers expect rebound from 2018's hurricane woes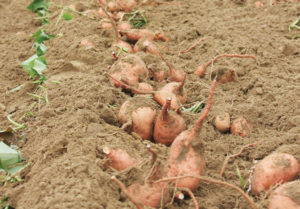 Sweet potatoes are becoming very popular, said Rebecca Scott, grower accounting and marketing for Nashville, N.C.-based Nash Produce.
"Packed with fiber in addition to many essential vitamins and minerals, the sweet potato is a well-rounded product that doesn't require a lot of extra effort," she said.
"Consumers have been increasingly interested in incorporating the tasty tuber in their snacks and meals and we are excited to have the opportunity to supply it at their local restaurants and retailers."
Last season Hurricane Florence came through the state during sweet potato season.
This season, the crop is doing extremely well in comparison, Scott said.
"We hope that production will continue to grow year after year," she said.
"Consumers are continuing to show a peaked interest in North Carolina-grown sweet potatoes due to their unrivaled texture and flavor."